A Rare Case of Bobble-Head Doll Syndrome
Dr. Sunil Patel, Chief of Neurosurgery at the Medical University of South Carolina, discusses a rare case of Bobble-Head Doll Syndrome. Characterized by a "yes-yes" head bob, the syndrome is often associated with cystic abnormalities in the third ventricle that produce hydrocephalus. Opting against the traditional craniotomy, Dr. Patel drained the cyst endoscopically—a 15-minute procedure requiring an incision only an inch long. MUSC specializes in minimally invasive endoscopic neurosurgery.
Related Presenters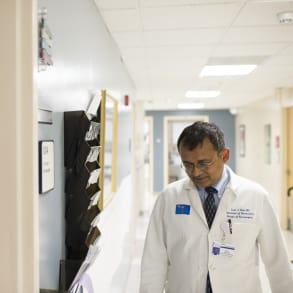 Dr. Sunil Patel is board certified in Neurological Surgery, with additional Fellowship training in Skull base Surgery, Cerebrovascular Surgery, and Microneurosurgery. He has been in practice for over 20 years and is currently the Chair ...