Welcome to the MUSC Health Medical Video Center
MUSC Health, the clinical enterprise of the Medical University of South Carolina (MUSC), is dedicated to the pursuit of changing what's possible in health care. Nationally recognized for its innovation, patient- and family-centered care, and quality outcomes, this integrated health care system is accessible at the downtown Charleston campus and through more than 100 outreach locations, clinical affiliations with numerous health care partners, and a robust telehealth network. MUSC Health sees more than one million patient encounters annually, and its specialized care teams consistently rank among the best in the country. MUSC Health delivers transformational care shaped by world-class clinicians, health scientists, and educators who provide leading-edge care, while developing the next generation of innovative health care leaders.
Featured Videos |View More
Featured Documents |View More
Document
TELL-TALE BLOOD Liquid Biopsy offers a Useful Diagnostic Companion for Targeted Therapies
Conventional biopsies are invasive, costly, and sometimes impossible to conduct, but they yield valuable information other methods were unable to provide—until now.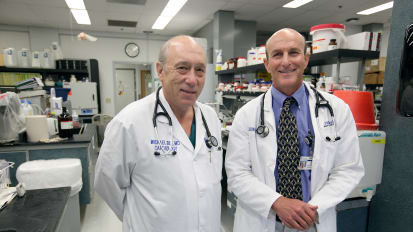 Document
Testing Stem Cells as Possible Treatment for Heart Failure
Stem cells are being tested at the Medical University of South Carolina as a possible treatment for heart failure with a preserved ejection fraction, or HFpEF.
Document
Right on Target: Clinical Genomics Identifies Cancer Patients Likely to Benefit from Targeted Therapies
Genomics screening can improve the odds for some cancer patients, potentially identifying mutations associated with cancer subtypes for which targeted therapies exist or are in development.