Carpal tunnel syndrome is a painful, tingling, numbing, and burning nuisance that many sufferers have learned to ignore. While surgical treatment has success rates of over 90%, many are daunted by the thought of surgery, missed time and income during the long recovery, and all the associated costs.

Multiply these factors by the fact that most sufferers use their hands daily to make their living, and it's not surprising that patients are reluctant or unable to take the time they need to care for themselves.

M. Lance Tavana, M.D., an associate professor at MUSC and program director for the MUSC integrated plastic surgery residency, sees patients every day who are passionate about their work and need to use their hands: people like chefs, hair stylists, engineers, musicians and physicians are all eager to seek out his help.

"When you have people who are passionate about what they do, they want to continue their passion for as long as possible," he said. "The concept of requiring significant downtime for a relatively small procedure is something that should be in the past."

Tavana has been performing endoscopic carpal tunnel release surgery since he started his career at MUSC in 2012. He's completed over two thousand cases so far, but until recently, like most of his colleagues nationwide, he performed them in the OR.

Beginning early last year, though, he pulled the procedure out of the OR and into an outpatient procedure room by using commercially available endoscopic release kits in combination with a nerve block for pain control.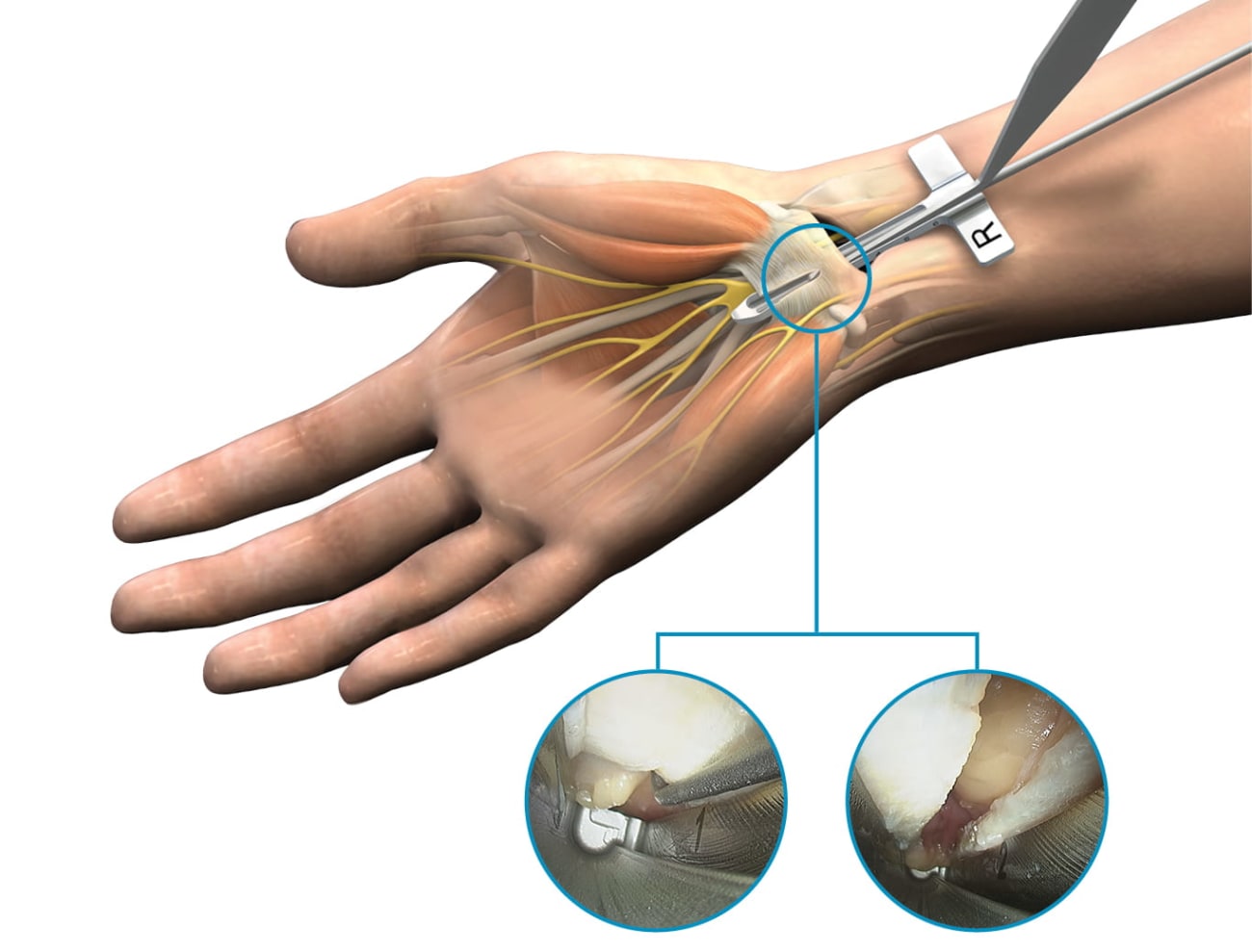 With an endoscopic release kit, Tavana can efficiently release the carpal tunnel and restore mobility and ease. Image courtesy of Trice Medical.
With this shift, his patients can drive themselves to the facility on the day of the procedure, be in and out in less than an hour, and then continue with their day. Recovery and symptom relief are quick, and many patients head back to work within a few days.
From the patient point of view, this is a far better option: it's quicker, more comfortable and less expensive than the alternative of traditional open surgery, which requires weeks of recovery with a much larger incision on the palm.
And for physicians and hospitals, there is much greater efficiency and the opportunity to prioritize highly scheduled ORs for more complex procedures. On procedure days, Tavana can perform a new case every half hour, meaning that more individuals can stop putting their pain on hold and start living the rest of their lives.
With the endoscopic kit, a small incision of less than half an inch is made in the wrist instead of the 1-inch incision in the palm of the hand that traditional surgery requires, so patients can expect a quicker recovery with less scarring, less pain and greater mobility.
And, importantly, the ability to use their hands to get back to work or creative passions.
"People should be able to get back to what they want to do as soon as possible," said Tavana. "Performing the procedure with local anesthesia makes it much easier on patients, and they are going back to life and work much sooner because the incision is on the wrist as opposed to the work surface of the hand."
Right now Tavana is the only surgeon in South Carolina performing carpal tunnel release in this way. He is also working to pull other procedures out of the OR in the future, always aiming to increase efficiency and improve the lives of his patients.